New Eco Wrap
Features
01. US Food and Drug Administration FDA Regulation 117.1520 Made from the right ingredients and safe
02. Bio-PE made from sugarcane pulp Molybdenum
03. Reduced carbon emissions and recyclable products
04. Biomass synthetic resin contains biomass (sugarcane Bio-PE), which is a plant-derived resource, more than a certain amount, which is excellent for substituting fossil raw materials, reducing carbon emissions, and recycling "
05. Attach sliding cutter to lap case for more convenient and safe lap cutting
06. Safe from scratches caused by metal saw blades
07. Install a wrap support in the case to fasten the wrap to make it easier and more stable.
08. Anti-tack coating on top of lap case prevents wrap from getting caught in case
The environmental label certification system is a system that displays environmental markings on products that can cause relatively less pollution during production and consumption and save resources.
SQF certification is a standard approved by the Global Food Safety Association (GFSI) and is a food and quality management system certification based on HACCP management standards.
This product is covered by the product liability insurance.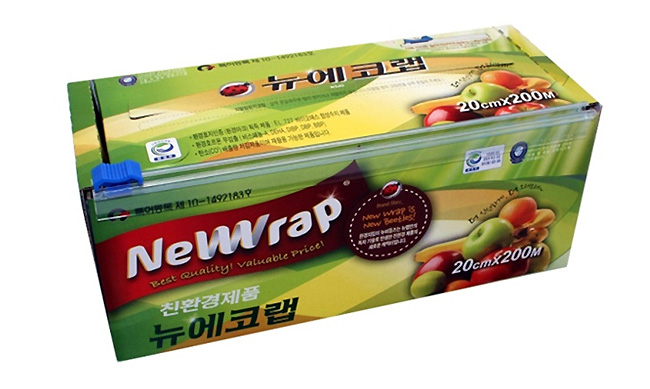 Details
· Specification : 4µm
· Type : Food wrap
· Ingredients : EM-L1300F, LLDPE + LDPE
· Heat temperature : 110°C
· Cold temperature : -60°C
Size : Weight(g)/Length x Width x Height(mm)/ Acquisition(1box)
· 20cm x 100m : 120/ 245 x 75 x 70/20
· 20cm x 200m : 276/ 244 x 99 x 99/12
· 30cm x 100m : 250/ 348 x 76 x 70/15